Up Next: Windup Watch Fair
Round 3 at my favorite watch event
To be fair, Windup is, so far, the only watch event that I've been to. Watches and Wonders is a bit far and not yet worth it for me. Baselworld isn't a thing anymore and the Hong Kong Watch & Clock Fair is similarly too far.
Windup, though - that's happening the day after tomorrow right up the road from me. I went that last year and utterly and completely fell in love with it. So much so that I managed to maneuver things so that I could go to the New York edition last year as well. So this will be my third visit.
Indies and Micros is a reader-supported publication. To receive new posts and support my work, consider becoming a free or paid subscriber.
Here's what I'm looking forward to:
Christopher Ward
They are my favorite brand of the year for 2022. They've been teasing a new release for later today and it looks… interesting.
I'm hoping they'll have it in the metal at the show.
I've already made my "Go big or go home" CW purchase when I got my Bel Canto, so I'm not going to drop another dollar here.
For real. Not one more dollar.
I just need to avoid Will Brackfield.
I also want to see the C63 Blue Marine in person.
And I really want to see the C65 Dune.
Fears
The Brunswick White 38mm is my current grail watch. I saw it last year on a gorgeous blue leather strap.
And then a few days ago, they showed it off on a beautiful jubilee-esque bracelet.
echo/neutra
I've had my eye on these folks for a little while now. Their white AVERAU (I don't know why they use all-caps either) looks super-sharp.
Islander
This is a chronically underrated brand. They started out making homage watches (and still do), but they've been putting out some really awesome original timepieces. I have their Republic GMT that I curently have on a leather strap from Baltic. Here it is on an ADPT nylon strap.
This time around, I'm curious about their Port Jeff model, specifically in this gray dial. Not a big fan of the BOR bracelet but I'm still curious.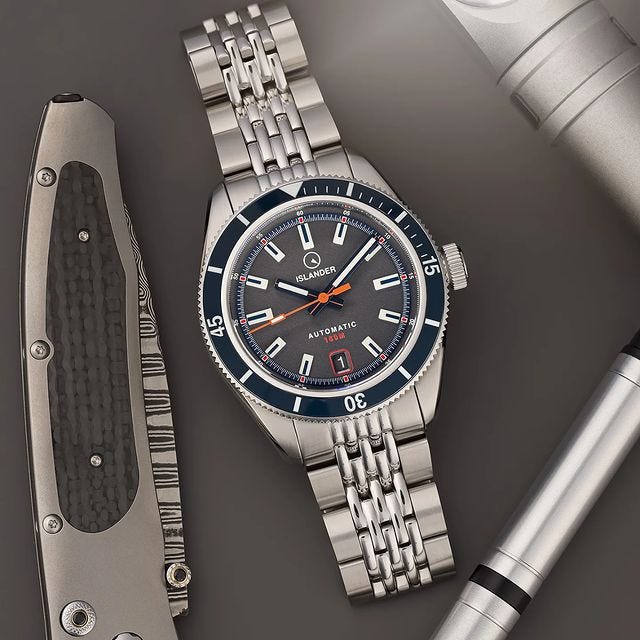 Lorier
I have a watch I've been meaning to send back to Lorier for some tweaks to the bezel and now I'll have the chance to drop it off in person. Apart from that, I thought I was good to go as far as this brand was concerned.
And then this showed up on Instagram: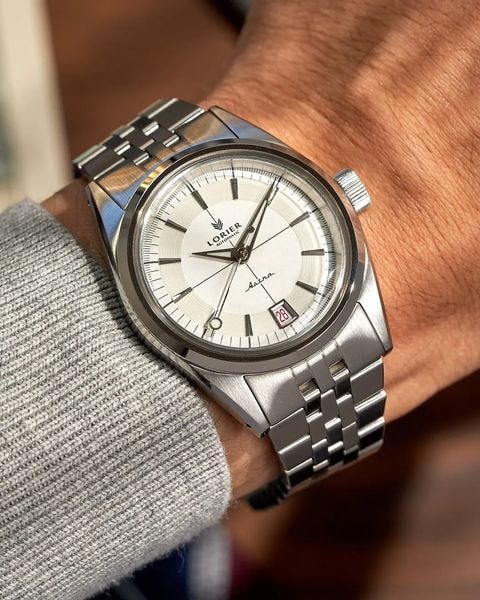 Scroll on Instagram till you see the blue and white dial.
Where's that heart-eyes emoji…?
😍
Maen
I didn't order it, but I still want to see the Brooklyn 36 triple calendar. It looks very interesting but I'm on the fence about the size.
I'm also curious when I'm going to get my GMT, so…
Nodus
I have one question for Wes and Cullen: when can I buy my h-link strap for my Sector GMT?
I mean, just look at this thing:
Nodus, no fair keeping that bracelet from the rest of us.
Oh yeah, and then there's the Unity…
… and the Sector Deep, which is such an awesome looking brutalist piece.
My review unit of the Sector Deep is on its way and I honestly can't wait to dive into it.
Get it? Dive? Cause it's a… never mind, I'll show myself out.
I have a LOT of thoughts about Nodus as a company and the Sector series in particular. I have three Nodus pieces in my collection and boy howdy, do they get wrist time. More to come on that later.
What/who I'll miss at Windup…
There are some brands that won't make it to Windup. They will be missed.
Traska
Traska's Jon Mack doesn't need to come to any fairs; the man's watches sell out so fast, he could whisper into the wind and his new model would sell out in a heartbeat. That being said, it would be cool to have Traska there; sometimes, being at fairs like this is really more about meeting your fans and customers.
Zelos
Same thing goes for Zelos' Elshan. He's in Singapore and you can absolutely bet that this Friday's release of the Mako GMT will be gone so fast, it'll give people whiplash. Again, it would be cool to meet him in person but Singapore isn't exactly around the corner.
DuFrane
I really love what Steven at DuFrane is doing - and you should check out his YouTube channel for his "DuFrane Discussion" series. I lost my Travis a few months ago and have been missing it terribly.
Boldr
Boldr is represented in spirit by the Windup Watch Shop; they're an authorized reseller and partner with the Singapore-based brand on their ADPT series of watches. With any luck, I'm hoping they'll have the Globetrotter GMT there for me to gawp at.
---
I'm sure I'm missing a few people and brands here; it'd be REALLY nice to see some of the folks I follow on YouTube or Instagram there, for example. So, if you're going to be in SF this weekend and plan on coming by the fair (it's free!), send me a DM on Instagram: I'm @indiesandmicros.
Indies and Micros is a reader-supported publication. To receive new posts and support my work, consider becoming a free or paid subscriber.